Andrea Wulffleff, Executive Director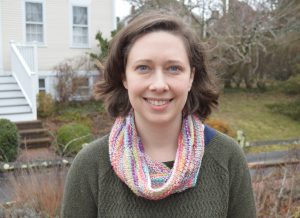 Andrea's interest in decorative arts and New England history led to her love for museums at an early age. Born and raised in Massachusetts, Andrea has lived in Connecticut for the last 12 years, and is thrilled to now make her home on Nantucket. Andrea received her BA in History from Smith College and her MA in American Studies/ Museum Studies from Trinity College, Hartford. She is the former Curator of the Wilton Historical Society in Wilton, CT and has worked at the Connecticut Historical Society, the National Portrait Gallery, The House of the Seven Gables and Fruitlands Museum.
Ashlie Emery

Ashlie Emery has been the welcoming face at the front desk since 2006. She is responsible for greeting visitors, gift shop sales, leading tours and coordinating activities with the many volunteers at the museum. An accomplished basket maker for 20 years, Ashlie also shares her talents by helping to cultivate the next generation of weavers as an instructor with the museum's youth weaving program. Ashlie enjoys all facets of crafts and has helped her grandchildren learn to sew by making carry bags from recycled clothing. They sell their work at craft fairs to raise money for breast cancer causes.
Prior to joining the museum, Ashlie held positions at Hy-Line Cruises, Serenity Farms and Curves. She and her husband have lived on Nantucket for 20 years. She enjoys spending her free time with her three grown children and nine grandchildren.