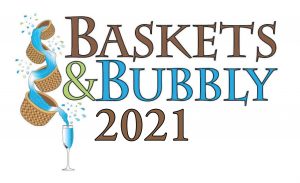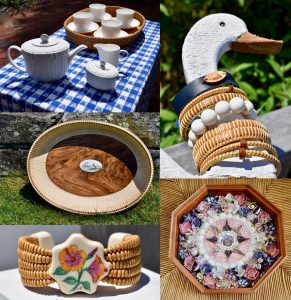 The Nantucket Lightship Basket Museum (NLBM) and Nantucket Historical Association (NHA) plan to host the NLBM summer fundraiser, Baskets & Bubbly 2021, through an online auction from July 18–25. This year's fundraiser is chaired by Karen Butler and Jackie Kupper.
The auction will include over 25 lightship baskets and basket-related items, making it a one-of-a-kind event.  This virtual auction will offer buyers the opportunity to bid on exquisitely handcrafted items, including a Manny Dias basket tray, a Michael Kane woven bracelet embellished with scrimshaw, a Karol Lindquist oval basket, along with many more unique pieces.
Baskets & Bubbly Celebration CANCELED
Out of an abundance of caution due to the current increase in COVID-19 cases on Nantucket, we have made the difficult decision to cancel the Basket & Bubbly Garden Party that was scheduled for Sunday, July 25, in the Hadwen Garden.
Please be sure to continue to bid on this year's fabulous auction items.
Bidding ends Sunday, July 25, at 9 pm!
---
"What inspires us is that every Nantucket lightship basket is one-of-a-kind incorporating the heart of the person who made it.  Both of us are profoundly excited and desire to do what we can to preserve this iconic craft and its history," says Karen Butler and Jackie Kupper.
Committee:
Karen Bloomfield, Marion Conley, Marcia Kane, Peggy Kaufman,
Kathleen Myers, Sandie Owen & Eleanor Roethke.
---
Thank you to our Supporting Sponsors
---
As an affiliate of the NHA, the NLBM retains all funds donated, and are to be used solely to carry out its mission. The NLBM's ongoing emphasis is teaching the craft and sharing the history of making Nantucket lightship baskets.  Ultimately a new gallery dedicated to Nantucket craft, to be named the Nantucket Lightship Basket Museum Gallery within the NHA's Broad Street campus will be created.