Reggie Reed was born on Martha's Vineyard during the time when Reggie's father was a lighthouse keeper. He was born in the quarters of the assistant keeper at the West Chop Light. During the first eleven years of Reggie's life his family moved quite a bit, from lighthouse to lighthouse, wherever his father's work took them. In 1925, Reggie's father took a job as lighthouse keeper at Brant Point on Nantucket. Reggie was one of five children, four boys and a sister. He was the youngest and his mom passed away when he was only a year and a half old. His father remarried soon after and he was raised by his step mother.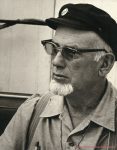 After high school, Reggie went to work for the next ten years building dams in Brimfield, Massachusetts. for President Roosevelt's Civilian Conservation Corp. He said the dams were put in place in the woods for water supply to assist with extinguishing fires. He decided to return to Nantucket and landed a job at the cranberry bogs, remaining there for the next seven years. He became a carpenter for the next thirty years after that. Once retired, he took a basket making class with Bill Sevrens and began making and repairing baskets. In his own words, Reggie did not really fancy himself as a basket maker but more as a "laborer." He repaired baskets and made parts for other makers. He invented several devices to improve the process of basket making that were quite ingenious and made use of parts and materials found around his shop.
In an interview in 1995 he was very proud to say that he had been the caretaker of the town clock for thirty five years. Reggie also prided himself on his involvement over the years with several groups and associations such as The Wharf Rat Club, The Pacific Club, the Odd Fellows and the Improved Order of Redmen.