By all accounts, Aletha Macy was a talented child. Born on Nantucket in 1901 to Charles H. and Susan Dunham Macy, Aletha was a direct descendant of Thomas Macy, one of the original founders of Nantucket.  Early on, her creativity found an outlet in woodworking, often being scolded for her pursuits as a young child.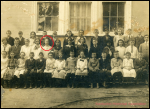 By the age of 11, she was regularly leaving school to watch cabinet maker Lincoln Ceeley work in his shop, The Cooperage. There he made furniture, clock cases, weather vanes, and sailor boys, the iconic Nantucket whirligigs.
Mr. Ceeley saw potential in Aletha and took her under his wing, making her his full time apprentice after her junior year of high school. She would work with him for over thirty years, stopping at the time of his death in 1950.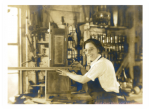 Under Ceeley's instruction, Aletha learned woodcarving, cabinet making, and reverse painting on glass, which was used for clock doors. As a teenager, she displayed her pieces in the Agricultural Society's annual exhibition, quickly gaining a reputation for her fine workmanship.
Many of her tables and desks could be found in prominent Nantucket homes.
In 1921, Aletha married John Sanders of Sayville, New York. Although their marriage was brief, some of the pieces she made during this time were signed Aletha Macy Sanders.
In the mid-1950s, she was approached by basket maker José  Reyes to carve ivory pieces for the tops of his famous friendship baskets. He had more orders than he could fill and was looking for assistance. Although she had never worked in ivory, Macy agreed; it became her preferred medium.
Beginning with sperm whales and sea gulls, Macy, spurred by her love of the outdoors, began to carve other animals, birds and fish. Soon after, she opened her own shop, Ivory of the Sea, on Madaket Road. In addition to Jose Reyes, Macy made the scrimshaw for many of Stephen Gibbs baskets until the early 1960s.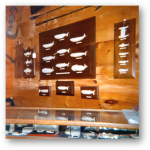 Her remarkable workmanship quickly drew the notice of the tourists who flocked to the Island every summer as her scrimshaw and ivory carvings became sought after souvenirs. She is most famous for her whale boards, a collection of 6 or 8 different varieties of whales, carved and mounted to a wood board. They even appear in the collections of Mystic Seaport and the Ratsey and Lapthorn Museum.
Comedic actress Beatrice Lilly sent her an autographed photo to thank her for her sea gulls. Yankee Magazine and the Boston Herald both ran articles about Macy toward the end of her career. The articles brought renewed interest in her work and her shop was busier than ever.
Despite the success brought to her by her ivory carvings, Macy was most proud of her wood carving of Abram Quary, the last male member of the Wampanoag tribe on Nantucket. The piece often hangs in the Nantucket Atheneum near the painting that inspired it.
Away from her shop, Aletha Macy was an avid outdoorswoman – fishing, hunting, and horse racing were among her passions. She was the oldest member of the Miacomet Raceway Association at its founding in 1965. She and her horse, Rimlap Gal, often won first place in the sulky races.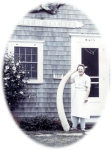 In a tribute written after her death in 1971, her friend, Edouard A. Stackpole wrote, "Her talent was a blend of her character – natural and unadorned – and of her skill – so carefully obtained and nurtured."