Nantucket Lightship Baskets – A Historic Perspective
Native American and splint farm baskets of the early 1800's
Local Native American baskets were, in part, a precursor to the Nantucket lightship baskets later made by white men. The local natives wove baskets with ash wood splints and weavers, through a process of stripping and soaking the layers of wood. The bottoms were square woven. Similar to lightship baskets, these baskets featured a carved flange on the handle to keep it in place. Farm baskets of New Hampshire, with their wooden bases, are also similar to the Nantucket lightship basket.
1830s – 1850s Baskets made during part of the Whaling Era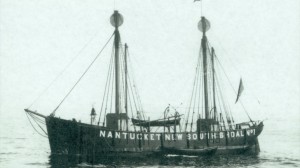 Although early rattan baskets made on the ships were made free form, without a mold, it is believed that the concept of a lightship basket (At this time known as rattan baskets.) was cultivated aboard whaling ships. During this transition period, elements of the wooden base found in New Hampshire work baskets and splint baskets of the Native American Indians were incorporated with the new elements of a mold and cane from south-east Asia to create the Nantucket lightship basket.
Nantucket New South Shoal Lightship Coopers were stationed aboard whaling vessels (Coopers were wood workers who made barrels to hold the whale oil.) A barrel has a wooden base, ribs or "staves" and a wooden rim much like the Nantucket lightship basket. These woodworkers had access to lathes, woodworking tools and most likely a lot of free time. The cane was traded with merchant ships; therefore all of the materials for the "lightship basket" were on board. The construction may have come from an ingenious sailor who used what was accessible on board the ship to weave a basket similar to those woven with cane that he had seen on his travels.
Some retired whalers became lightship keepers. A few known basket makers/whalers were Captain James Wyer, Captain Charles B. Ray, Captain Thomas S. James and Captain James F. Chase.
There are three significant elements found in the construction of a Nantucket lightship basket. The basket is woven on a mold; the weaver used is rattan, otherwise known as cane and the basket has a solid wooden base.
Baskets making during the Lightship Era 1858-1900
In 1856, the state of Massachusetts commissioned lightships staffed with approximately 10 men to provide light to passing ships in the heavily trafficked waters around the dangerous shoals to the south of Nantucket. The lightships, acting as floating lighthouses, were positioned to warn of the dangers and to prevent disastrous shipwrecks. With little to do during the day, the crew turned to weaving rattan baskets to pass the time on board. The wooden bases of the baskets were prepared on shore while the weaving and assembly took place on the lightship. The crew found that the baskets had many utilitarian uses around the house and were becoming popular with visitors. While no longer made on lightships, they are still called Nantucket lightship baskets.
Lightships remained on duty into the 20th century when technology improved and buoys replaced the ships; however, the Government stopped the crews from weaving baskets on board lightships in the early 1900s as they looked at it as "moonlighting." It is strongly thought by collectors and historians that some of the finest baskets were made between 1870 – 1890 aboard lightships such as the New South Shoal #1 and the Cross Rip. Some basket weavers of this era were: Captain Davis Hall, Captain Andrew Sandsbury, Roland Folger, Thomas W. Barrallay, William D. Appleton, George W. Ray, Charles F. Ray, Joe Fisher, Charlie Sylvia, SB Raymond and Isaac Hamblin. Although many of these men put labels on their work, most have not withstood time. These baskets were so important to a household that many times the owner of the basket would inscribe the family name on the handle or the base.
Post Lightship Era 1900 – 1940
As the basket trade ended aboard lightships, the craft continued into the 1900s on land. The craft was passed on from one man to another along with molds, tools and trade secrets. While no longer made on a lightship, these baskets retained the name of Nantucket lightship basket. Some prolific weavers with shops or who sold at various Nantucket shops were Mitchy Ray, (comes from a long line of basket weavers) who then taught Fredrick Chadwick, and later Bill Sevrens. A.D. Williams learned from W. D. Appleton and later taught Ferdinand Sylvaro. Typically, the baskets are woven over oak, ash or hickory staves, and pine or mahogany is used for the bases. Most of the basket makers at this time were signing or labeling their baskets.
1940-1980
The popularization of ladies handbags as an accessory occurred in the late 1940s due to the ingenuity of José Formoso Reyes. Although covered baskets were constructed for other utilitarian purposes since the late 1800s, Reyes made it popular with the help of Charlie Sayle who added a decorative carving to the top. Reyes broke from tradition and called these friendship baskets because the basket symbolized a bond with Nantucket and was instantly recognized as a reminder of this special place. The friendship purse is responsible for connecting people who went on to form lifelong friendships.
During this time, it was a common tradition for a girl to receive a friendship basket upon graduating Nantucket High School when friendship baskets cost $20 – $35. Throughout the world, baskets were as popular as ever and basket makers were experimenting with many new styles and forms. Some weavers during this time were: José Reyes (influenced by Mitchy Ray), Sherwin Boyer, Stanley Roop, Stephen Gibbs, John Kittila, John Elder and Paul Whitten.
1980 – Current
We have seen many changes in adornments, materials used and detail that goes into weaving a Nantucket basket. Another significant occurrence in the beginning of the contemporary period is that some distinguished basket makers began teaching groups of students the techniques of weaving in more formal settings. These teachers provided the wood worked pieces such as the mold, base, rim and handle. Students completed the weaving and assembly. Through this process, many hobbyists, who were not adept at woodworking, were introduced to lightship basketry and were able to create beautiful baskets. This not only created a market for lightship basket instructors, but also created a market for component pieces.
Over time, another group of basket makers emerged. For these basket makers, weaving is not their primary occupation. They made their living in many different ways. For them, weaving baskets provided an opportunity to supplement their existing income or to earn a little additional spending money in retirement. Some of these basket makers include: Manny Dias, Paul Johnson, Maureen Reed, Bill Sevrens, Betty Lou Clark and Albert Ottison.
Major contemporary and commercial weavers who make or have made their primary living from weaving baskets (and for some, teaching) over the past 31 years include: Dick and Donna Cifranic, Terry Sylvia, Bill and Judy Sayle, Trish and Dick Anderson, Paul Willer, Michael Kane, Nap Plank, Alan Reed, Gerald L. Brown, Karol Lindquist and Susan and Karl Ottison. Major teachers of this time include: Terry Sylvia, Donna and Dick Cifranic, Karol Lindquist, Tim Parsons and Peter Finch.
What the future holds…Today there are a handful of shops where the basket weaver makes his or her living from the trade. They create the entire basket, including all of the component parts, in a good old fashioned workshop. In these workshops you can find newer technology such as magnification, precise computer designs and high tech vacuums for removing dust as well as many of the same tools that were used by the early basket makers. The tradition continues.
Part of the mission of the Nantucket Lightship Basket Museum is "to mentor a new generation of lightship basket makers." To fulfill that mission, the museum works diligently on continuing a year round youth weaving program at the museum. This program is accessible, at little or no cost to the student, in hopes of cultivating new interest and future Nantucket basket weavers.